Colorado Piano and Gun Safe Moving Services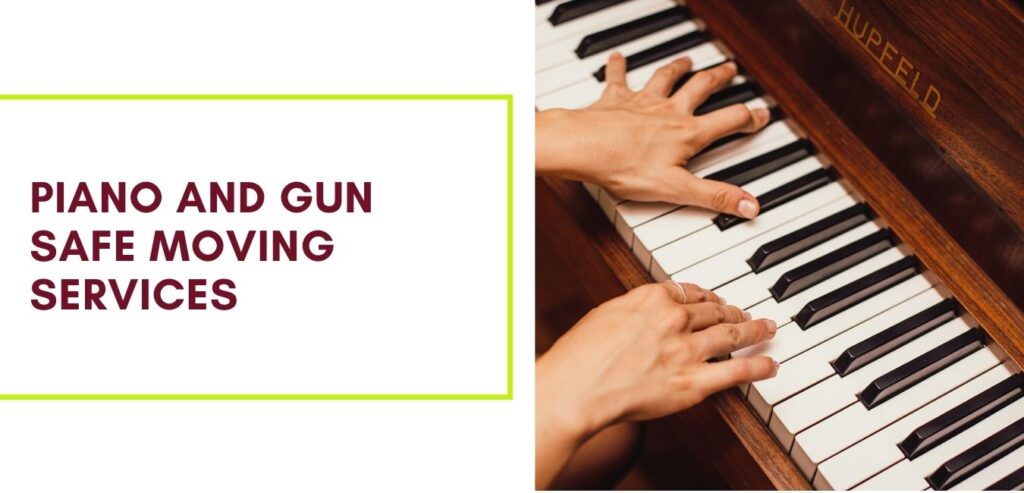 As one of the many commercial and residential relocation services offered by My Three Sons Moving Co., we provide piano and gun safe moving for Colorado Springs residents and throughout El Paso County.  It's no secret that moving a piano or gun safe is job best handled by professionals who have had the proper training for moving these extremely heavy items.  No matter how big or small the move, we have decades of industry experience making moves that require the proper equipment and skills.
Why does piano and gun safe moving require professional handlers?
Moving pianos and gun safes is nothing like moving bedroom, dining room, or living room furniture.  We've heard the nightmares about individuals who tried to move these items instead of hiring professionals for the job.  Many pianos have needed re-tuning or got damaged in a DIY move and wound up needing costly repairs. In other cases, the mishandling of a gun safe resulted in injuries to the people trying to move it or damage to the home.  Here are some additional considerations where piano and gun safe moving are concerned.
Moving a piano can be dangerous work for individuals who haven't been properly trained for such a task. The specialists at My Three Sons Moving Co. have many years of combined experience helping homeowners and renters move their pianos in the Colorado Springs area.  From concert grand pianos to spinets and uprights, we've tackled every piano moving job you can imagine.
Moving a gun safe like moving a piano requires a certain level of experience and skill sets that many movers are not trained for. Before moving a gun safe, it's imperative that all firearms and ammunition be removed from them.  After all, that's a lot of extra weight that our specialists would have to handle.  Furthermore, federal transportation laws prohibit My Three Sons Moving Co. and other movers from transporting any type of firearms and ammo. And we adhere to all state laws and regulations while transporting belongings.
How much does it cost to move a piano?
There are usually 6 factors that moving companies take into consideration when moving a piano.  In most cases, the moving company you choose will charge a fixed rate or an hourly rate.  The fixed rate is determined by the amount of experience the movers have and other variables.  The hourly rate normally covers labor costs and the equipment that is being used.  Regardless of their pricing, the following 6 factors usually influence the cost of moving a piano:
distance of the move
type of piano including shape, size, and weight
moving equipment required
placement of the piano in your new home
disassembly and reassembly
accessibility challenges (e.g., stairs, tight hallways, etc.)
Additionally, the need for long-term or short-term storage of your piano could also be an influencing factor.  The cost of moving a piano may also be based on the type of the instrument.  The following chart lists the different types of pianos and the average cost of moving it:
| | |
| --- | --- |
| Type of piano | Avg. moving cost |
| Concert grand piano | $450 |
| Grand piano | $400 |
| Baby grand piano | $300 |
| Spinet or console piano | $200 |
| Studio piano | $250 |
| Upright piano | $300 |
How much does it cost to move a gun safe?
When hiring My Three Sons Moving Co. for piano and gun safe moving, you'll need to provide our specialists with as much information as you can.  This will ensure getting an accurate quote when moving either item.  That being said, the average price for moving a gun safe will range from $200 to $600.  There are 4 factors that help us calculate the cost of moving gun safes:
dimensions and weight
distance of the move
placement in the home
standard pick-up and delivery to your new location
We understand that not all gun safe moves fit the classification of standard pick-up and delivery.  Custom moving charges may apply for:
accessibility to delivery location
bolting (securing) the safe to the floor
complexity of the move
multiple floors
narrow turns
one or more sets of stairs
removal of doors, moldings, and railings
The cost of piano and gun safe moving is a smart investment where your personal safety and protecting your items are concerned.  We'll ensure that the moving blankets and additional harnesses are attached before these pieces are moved to minimize any movement during transit. We have moved special and fragile objects without any damage for years and can take care of your possessions.